Welcome To Reanjoy
---
The Reanjoy Laboratories was formed on 28th Feb 2011 and the company first started to establish a Di-Calcium Phosphate (Animal Feed Grade) plant, Reanjoy Laboratories proposed to set up a DCP unit of 1500 MT per annum capacity at G1-284 (B), RIICO Industrial Area, Gudli, Udaipur, Rajasthan. Reanjoy Laboratories is manufacturer & supplier of Dicalcium Phosphate DCP, Phosphogypsum etc.
---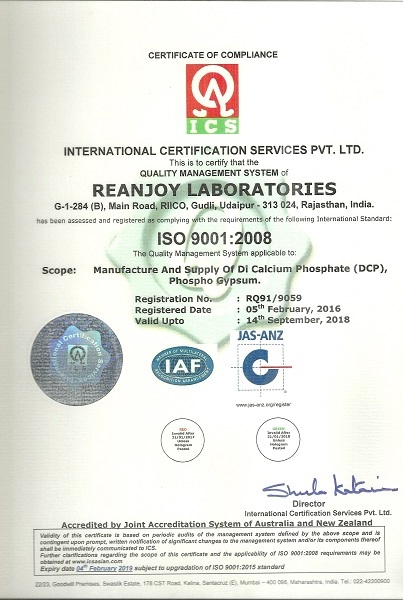 Company Profile
With years of industrial experience, we offer wide range of chemicals that are effectively used in many application areas. Our range of chemicals is widely appreciated among clients owing to some important attributes such as superior quality & socio economic prices, eco-friendly, accurate composition, stable under different condition and many more.

We have support of highly competent staffs who plays a very vital role in growth of our company. They have wide year of experience that enable us in undertaking all business operation with efficiency.

The team is customer focused and always works for their benefit and satisfaction. Also, we have extensive networking, in-depth knowledge of the developments in chemical industry, quality sourcing and efficient distribution systems. Owing to all, we have received wide acclamation and acceptance from majority of clients.
How it works?
Further, to sustain highest standards in our products, we have developed a quality control facility in our company. Well equipped with state of the art quality testing equipment and handled by well trained personnel, it assists us in ensuring superior quality solutions to our clients.

As the manufacturer of Animal feed products, we procure best raw materials for the manufacturing process that ensure the excellence of our range. Over the period of time, we have developed strong business relationship with various vendors, who provide us quality raw materials. Our products find application in a variety of fields like Animal Feed, pharmaceuticals, nutraceutical, cosmetics, perfumery, chemicals, plastics, rubber, paints, poultry feed, animal health care, ceramics etc. The company is reputed for providing quality goods to its esteemed clients. We offer a comprehensive range of Products that can be used in varied applications in diverse industries.
---